Lunch & Learn - Rebekah Faulk - September 23rd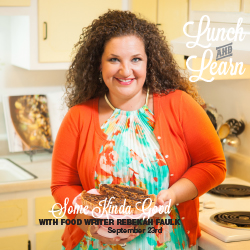 Rebekah Faulk is a food enthusiast, blogger, hostess and entertainer who writes and speaks about her love of good food and the Coastal South. After a foray into healthcare public relations early in her career, Rebekah hit upon the notion that the key to living a full, successful, no-regrets life was to return to her roots and pursue her passions. Less than two years later, this Georgia girl found herself on a Hollywood soundstage competing on Season 2 of ABC's The Taste and representing Georgia in Dr. Oz's Nationwide Healthy Recipe Challenge.
Rebekah's blog, Some Kinda Good is ranked number two on Urbanspoon's leaderboard of top Georgia food blogs. She also writes a bi-monthly food column for the Statesboro Herald and is host of the cable cooking television show Statesboro Cooks. In addition, Rebekah appears regularly as the Statesboro Main Street Farmers Market Celebrity Chef and is a guest blogger for Visit Savannah and The Local Palate. In addition, she is a freelance writer for Moments Magazine and Connect Statesboro. Rebekah was the featured alumna in the Spring 2014 edition of Georgia Southern magazine and the "Go Girl" in the March 2014 edition of Moments Magazine.
A Saturday morning may find her reading cookbooks and food magazines, browsing the local farmers market or sipping coffee watching Food Network. When she is not experiencing a new restaurant or whipping up something delicious in her kitchen, chances are she's fishing for bull shark on the Georgia coast or taking part in her other passion, singing country music. A native of Blythe and Jeffersonville, Georgia, supporting Georgia farmers and cooking with local ingredients is near and dear to her heart.
Faulk is a 2005 graduate of Georgia Southern University where she earned her Bachelor of Science degree in Public Relations. A Georgia Southern University staff member for three years, she works as Manager of Internal Communications in the University's Office of Marketing and Communications. She resides in Statesboro with her 10-pound Shih Tzu, Ewok.